Blog > Post
PostgreSQL is the DBMS of the Year 2020
by Paul Andlinger, Matthias Gelbmann, 4 January 2021
Tags: DBMS of the year, Microsoft Azure SQL Database, MongoDB, PostgreSQL
For determining the DBMS of the year, we subtracted the popularity scores of January 2020 from the latest scores of January 2021. We use the difference of these numbers, rather than a percentage, because that would favor systems with a tiny popularity at the beginning of the year. The result is a list of DBMSs sorted by how much they managed to increase their popularity in 2020, or in other words, how many additional people started to communicate about it in one of the ways we measure in our methodology, for example job offers, professional profile entries and citations on the web.
DBMS of the Year: PostgreSQL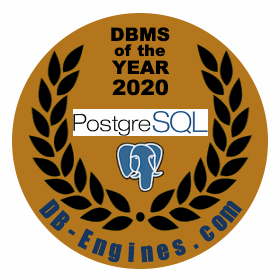 PostgreSQL already won our DBMS of the Year award in 2017 and 2018, and now becomes the first system to win this title three times.
PostgreSQL is known and loved for its stability and feature set. Recent releases have concentrated primarily on improvements under the hood, increasing its performance and efficiency. For DevOps these enhancements are more than welcome, and our popularity scores show this: PostgreSQL had a popularity score of 167 seven years ago, and they stand now at 552. The gap to our top three systems gets smaller every year.
It is worth mentioning that PostgreSQL is the base technology of various systems in our ranking. We list such systems as separate entries if they provide significant DBMS functionality on top of their base. These systems include Greenplum, EDB Postgres, TimescaleDB, Citus and several more.
Runner-up: Microsoft Azure SQL Database
Microsoft Azure SQL Database is a fully managed database as a service. It is built on the latest stable version of the Microsoft SQL Server product and optimized with features for running in the cloud (auto-scale, geo-replication, automatic tuning, ...). Consequently, features like manual backup/restore, management of server configuration parameters are not supported.
Between January 2020 and January 2021 Azure SQL database increased its popularity score from 28.2 points to 71.4 points (impressive 253%) and improved its overall rank in the DB-Engines ranking from 25 to 15.
In the 9 years of DB-Engines, it is the first time that a cloud database service comes in within the top three of the Database of the Year award.
Third place: MongoDB
Mongo is a two-time DBMS of the year winner in 2013 and 2014, and its popularity growth has not stopped since then. It is the most popular NoSQL system, best known as a Document Store. A less-known fact is, that MongoDB is also the most popular Search Engine, when we include secondary database models. That illustrates quite well the ever-expanding scope of MongoDB since its initial release only 11 years ago. Equally important, there is no question that MongoDB is a mature, production-ready system today, and the web-scale jokes from 10 years ago didn't age particularly well, although, they may have been funny at the time.
We congratulate PostgreSQL, Microsoft and MongoDB on their success in 2020.
Previous winners of the DB-Engines DBMS of the Year Award:
Reactions
Selected statements on the results:
Jonathan Katz, PostgreSQL Core Team Member: "PostgreSQL owes its success to the collaborative, global community of open source developers who are solving the modern challenges of data management. We thank DB-Engines for their continued recognition of PostgreSQL, and we will continue to enhance our developer friendly, open source database system known for its reliability and robustness."
John 'JG' Chirapurath, Vice President, Azure Data, AI & Edge: "We're thankful for this recognition from DB-Engines and are particularly excited that Azure SQL Database is the first cloud database service to be part of the top three for the DBMS of the Year award. Azure SQL Database is a fully-managed and intelligent service that's always up to date and built for the cloud. Developers and DBAs choose Azure SQL Database to modernize their existing SQL applications and build new apps in the cloud using familiar SQL Server tools and experiences. We're looking forward to continued investment in Azure SQL as the preferred destination for SQL Server workloads in the cloud."
Rishi Dave, CMO, MongoDB: "MongoDB has had a banner year. Our popularity with developers continues to grow, as evidenced by the fact that our community server has been downloaded over 130M times - 55M this year alone - which is more downloads than we had in the first ten years of the company. Our global cloud database, MongoDB Atlas now represents almost 50% of our revenue and it just became the first cloud database to enable an application to run simultaneously across multiple cloud providers with the release of Multi-Cloud Clusters. It is exciting to add this additional recognition from DB-Engines to our list of accomplishments."
Share this page