Paul Andlinger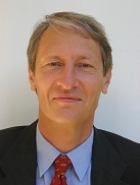 Dr. Paul Andlinger is co-founder, Managing Director and consultant at solid IT in Vienna, Austria.
Paul Andlinger studied computer science at the University Linz, and worked there as Assisstant Professor with teaching and research activities in the areas of databases and artificial intelligence. After that, he worked at Alcatel as Software Developer and Team Leader, at Progress as Head of Engineering and Presales, and many years at APSS/FirstData as Division Manager for software development and as company officer with statutory authority.
His areas of specialization are software development, databases, electronic payment transactions and personnel management.
In addition to his activities at solid IT, Paul Andlinger also works as lector at technical colleges with courses on foundations of computer science and databases.