Blog > Post
Big gains for Relational Database Management Systems in DB-Engines Ranking
by Matthias Gelbmann, 2 February 2016
Tags: DB-Engines Ranking, MariaDB, Microsoft SQL Server, MySQL, PostgreSQL, Relational DBMS, SQLite
One month after we declared Oracle the DBMS of the Year 2015, relational DBMSs are again doing very well in our popularity ranking, although it's not Oracle this time.
These are the top 5 systems, sorted by popularity increase in January:
Although some RDBMSs, most notably Oracle, DB2 and SAP Adaptive Server are also amongst the biggest losers this month, there is a remarkable trend for relational systems to gain popularity in the last 6 months. If we look at the database model ranking, we see that non-relational systems such as Graph DBMS, Wide Column Stores and Document Stores are the long-term winners. However, zooming into the RDBMS chart shows a reverse short-term trend.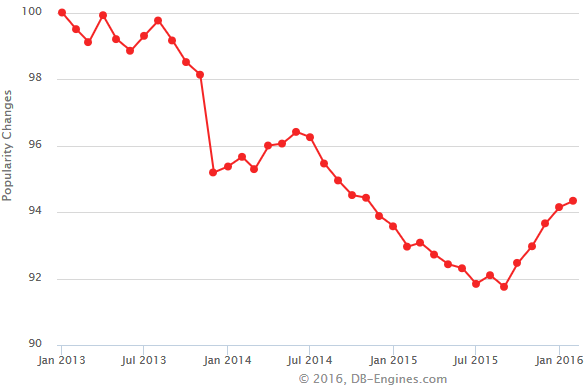 RDBMS popularity, Jan 2013 = 100
There couldn't be anything better for the data processing community as a whole than a fierce competition amongst a variety of systems. That's what we see at the moment.
Share this page