Blog > Post
MongoDB and PostgreSQL struggle for the lead of the chasing group in the popularity ranking
by Paul Andlinger, 1 July 2015
Tags: Cassandra, Microsoft SQL Server, MongoDB, MySQL, Oracle, PostgreSQL
Behind the big three DBMS (Oracle, MySQL, Microsoft SQL Server), which still are out of sight for the followers, MongoDB and PostgreSQL struggle for the lead of the chasing group in the DB-Engines popularity ranking.
While PostgreSQL overtook MongoDB a month ago, MongoDB regained the 4th rank in the current ranking.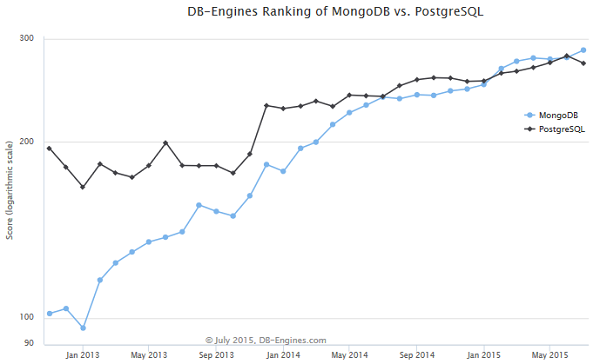 Within the top 10 systems only MongoDB (+8.34 points), MySQL (+4.98) and Cassandra (+3.80) improved their score this month. Interestingly enough, all three are open source systems backed by strong commercial companies.
Share this page