Blog > Post
Cassandra gained one rank and improves to 9th position
by Paul Andlinger, 2 April 2014
Tags: Cassandra, Database models, Graph DBMS, Relational DBMS, Wide column stores
The April ranking shows Cassandra climbing to the 9th place by overtaking SAP's Sybase Adaptive Server Enterprise (ASE). This is the highest position Cassandra ever had in the DB-Engines ranking.
As a consequence it continues to head the Wide-Column-Store segment with Apache's HBase and Accumulo being next.
We see some other trends remaining unchanged this month: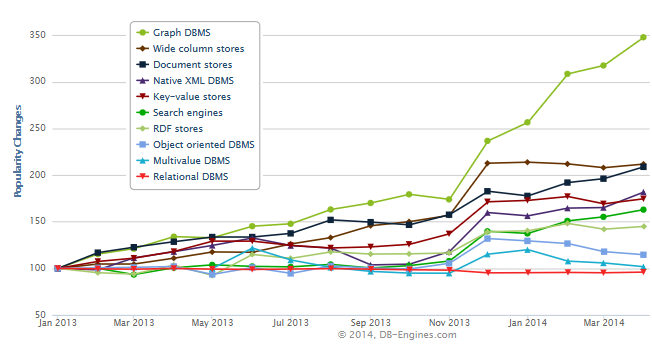 The above chart shows the relative increase in popularity compared to January 2013. However, we must not forget that Graph DBMS currently account for only 0,4% of all popularity points, whereas relational systems account for 87,7%. (Find additional details here.) Nevertheless, it will be interesting to watch how the big players deal with that trend in future.
Share this page