Blog > Post
Amazon - the rising star in the DBMS market
von Matthias Gelbmann, 3. August 2015
Tags: Amazon Aurora, Amazon CloudSearch, Amazon DynamoDB, Amazon Redshift, Amazon SimpleDB, DBaaS
Amazon is well know and highly appreciated in the IT world for its cloud computing offerings such as its EC2 services. As a part of these services, Amazon also offers a range of hosted DBMS solutions (DBaaS, DB as a service), which become more and more popular among developers. This is best seen when we pick out the Amazon systems from our DB-Engines Ranking.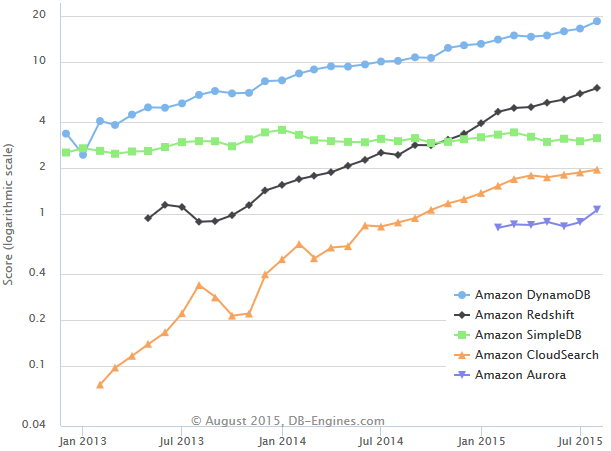 The Amazon services listed in our ranking do not include the classic Amazon Relational Database Services (RDS), where Amazon offers to run Oracle, MySQL, PostgreSQL or Microsoft SQL Server in the cloud. Entries in our ranking need to provide their own technology to be seen as separate DBMS system, and Amazon does provide a fine range of such systems.
This comes as no surprise, because the classic Amazon Dynamo paper attracted very much attention in 2007. Many people see this paper as one of the starting points of the NoSQL movement. There is, obviously, no lack of competence within Amazon when it comes to DBMSs.
Let's have a closer look at the individual systems and their popularity:
When it comes to hosted database solutions, Amazon is at eye level or even ahead of the other giants in the industry such as Oracle, Microsoft, IBM, SAP and Google. However, the competitive DBMS market is changing fast, and also includes quite a few successful and ambitious niche players. The momentary boost in popularity for Amazon's systems is certainly no guarantee for long-term success.
Teilen sie diese Seite mit ihrem Netzwerk