Blog > Post
Open source database management systems are now more popular than commercial offerings
by Matthias Gelbmann, 13 January 2021
Tags: DB-Engines Ranking, Open source DBMS
Open source systems now account for 50.1% of the total popularity scores, up from 35.5% eight years ago.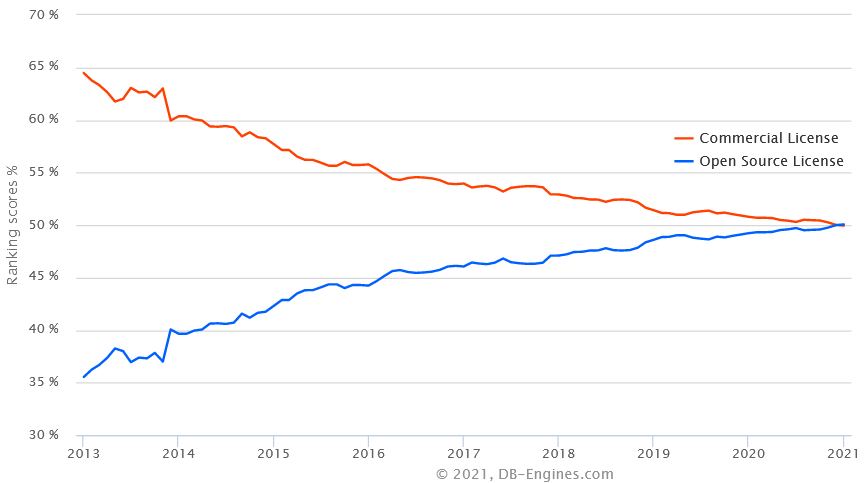 While 2 of the top 3 systems come with a commercial license, 7 of the top 10 systems are open source, and 51.2% of the systems in our ranking are open source systems, if we just count the numbers. The two most popular open source DBMSs, MySQL and PostgreSQL, are certainly among the pioneers in the open source world in general, not only in the DBMS scope.
Overtaking commercial systems is as a huge achievement for the open source community. We must, however, add some words of clarification.
First, we count a system as open source, if an open source version with significant DBMS functionality is available. Many systems additionally offer commercial licenses, often with extended functionality. We still count them as open source systems in this calculation.
Second, there are many variants of open source licenses. For example, our #9 system, SQLite, is public domain, which is quite rare these days. Then, we see systems with MIT licenses, Apache, Mozilla, BSD, GPL, AGPL licenses, and proprietary licenses. Basically, we count systems as open source in this statistic, when the source code can be downloaded, including licenses that are sometimes referred to as "source available".
If we investigate which systems are typically open source, we see this picture: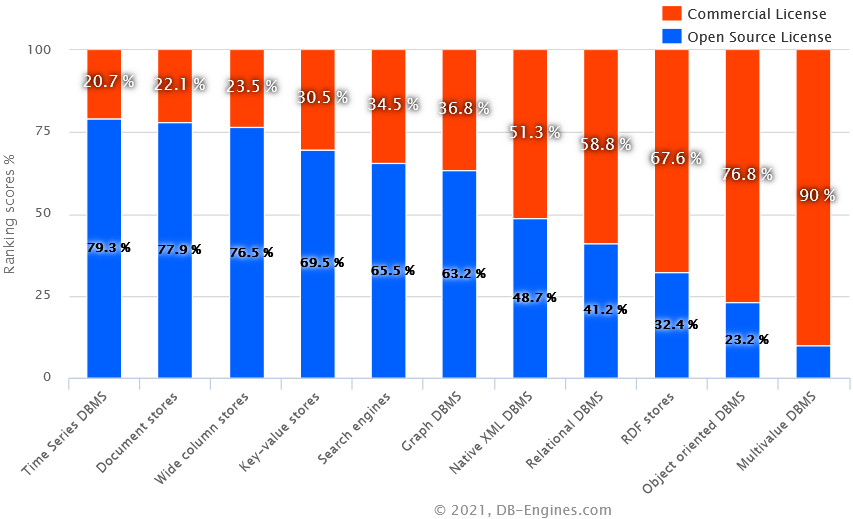 79.3% of time series DBMSs are open source, when weighted by their popularity score, and so are 77.9% of document stores and 76.5% of wide column stores. On the other hand, 76.8% of object oriented DBMSs and 90% of multivalue DBMSs come with a commercial license. Generally speaking, NoSQL systems prefer open source licenses, and so do younger systems. That is an indication that the share of open source systems can be expected to further increase over time in the long term, although we have seen a bit of up and downs when we look at the monthly changes.
Share this page