Blog > Post
Couchbase climbs up the DB-Engines Ranking, increasing its popularity by 10% every month
by Matthias Gelbmann, 2 June 2014
Tags: Couchbase, CouchDB
In the crowded NoSQL space, it's hard to build a product with unique features. If Couchbase describes itself as being "the world's most complete, most scalable and best performing NoSQL database", it sounds like we have heard that before from other vendors. Seemingly, it's hard to find a unique slogan as well.
Looking behind the marketing lingo, Couchbase outshines its competitors not with a killer feature, it's strength is the successful combination of essential DBMS properties: data distribution that rivals Cassandra's capabilities, data flexibility similar to other leading document stores such as MongoDB, together with an open architecture that enables easy integration with Hadoop or Elasticsearch, and support of the popular Memcached API. Additionally, Couchbase offers availability on a wide range of platforms, from server and desktop to mobile operating systems. As an open source project with an active community, there is also a vital ecosystem around that product.
That all comes with a solid implementation, which is no coincidence considering the history of the product. Damien Katz, one of the founders and architects, came from creating CouchDB before, which in turn he built on his experiences of being part of the Lotus Notes development team. Damien has since left Couchbase, this time not to build yet another Couch, but to give Salesforce a helping hand.
While Couchbase and CouchDB are still co-operating and supporting each other, one cannot help to also sense a certain amount of rivalry, not uncommon among relatives. If we compare the popularity of the two, we see that CouchDB is also doing very well in our ranking, at rank #21 ahead of Couchbase, but Couchbase is catching up.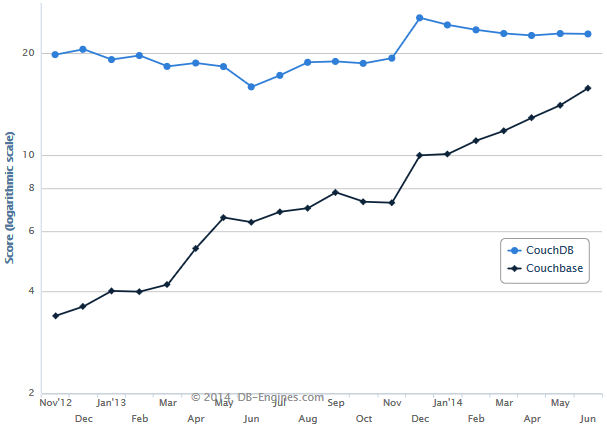 At position #26 of the DB-Engines Ranking, Couchbase isn't the center of the DBMS universe, but it certainly is worth keeping an eye on it.
Share this page